Vermonja Alston (Lumbee)
Email: valston@yorku.ca
Education: B.A. (Brown); J.D. (Boston U); M.A.L. (U of Pennsylvania); PhD (U of Arizona)
An interdisciplinary comparatist by inclination and education, Vermonja R. Alston holds a PhD in Comparative Cultural and Literary Studies, and a Juris Doctor degree. She specializes in Caribbean literature (in English, French, and Spanish), Indigenous North American literature, literary and cultural theory, environmental justice literature, and legal theory.
Courses:
AP/REI 3750: Black Indians and Native-Black Relations
AP/REI 4765 6.00 Indigenous Literature, Survival and Sovereignty
AP/EN 2240 6.0A: Introduction to Postcolonial Literatures in English: African, Caribbean, South Asian and the South Pacific
AP/EN 4410 3.0A: Caribbean Performance & Memory
Bonita Lawrence (Mi'kmaw)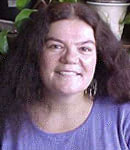 Email: bonital@yorku.ca
Education: BA (U of T); MES (York); PhD (OISE)
Her research and publications have focused primarily on urban, non-status and Métis identities, gender and colonization, and federally unrecognized Aboriginal communities. Her most recent book Fractured Homeland: Algonquin Identity and Federal Recognition in Ontario addresses relations between status and non-status Algonquins as part of the Ottawa Valley land claim.
She is the author of "Real" Indians and Others: Mixed-Blood Urban Native People and Indigenous Nationhood, and co-editor of Strong Women's Stories: Native Vision and Community Survival, a collection of Native women's scholarly and activist writing. She is a traditional singer who has sung for a number of years with groups in Kingston and Toronto at Native social and political gatherings.
Courses:
AP/REI 2050 6.00 Introduction to Indigenous Studies
AP/REI 3750 6.00 Black Indians and Native Black Relations
AP/REI AP/REI 3640 3.00 The Indian Act, Treaties, and Non-Status Native Communities
AP/REI 3650 3.00 Urban Native Communities
AP/REI 4765 3.00 Indigenous Literature, Survival and Sovereignty
AP/REI 4770 3.00 First Nations Music and Cultural Regeneration
David T. McNab (Metis)*
Email: dtmcnab@yorku.ca
Education: BA (Waterloo Lutheran); MA (McMaster); PhD (Lancaster)
David T. McNab is a Métis historian who has worked for more than thirty years on Aboriginal land and treaty rights issues in Canada. He has also been a claims advisor for Nin.Da.Waab.Jig., Walpole Island Heritage Center, Bkejwanong First Nations since 1992.
His most recent publications are: No Place for Fairness: Indigenous Land Rights and Policy in the Bear Island Case and Beyond, Montreal and Kingston: McGill-Queens University Press, 2009 and (with Olive Patricia Dickason), Fourth Edition, Canada's First Nations, A History of Founding Peoples from Earliest Times, Toronto: Oxford University Press, October 2008.In addition to over eighty articles, David has also published Earth, Water, Air and Fire: Studies in Canadian Ethnohistory (editor) (1998) and Circles of Time: Aboriginal Land Rights and Resistance in Ontario (1999) as well as the co-edited Blockades and Resistance: Studies in Actions of Peace and the Temagami Blockades of 1988-89 (2003), Walking a Tightrope: Aboriginal People and their Representations (2005), The Long Journey of Canada's Forgotten People: Métis Identities and Family Histories (2007), all with WLU Press.
Courses:
AP/REI/CDNS/HUMA 3538 3.00 Comparative Issues in Canadian and American Native Literature
AP/REI 3310 CDNS/HUMA 3530 6.00/3.00 Louis Riel and Métis Issues in North America
AP/HUMA 3537 CDNS/REI 3839 3.00 Canadian Native Autobiography
AP/HUMA/REI 4200 6.00 Metis Identities, Families and Issues in Canada
AP/REI/CDNS/EN/HUMA 3535 3.00 Indigenous Knowledge and the Environment
AP/REI/CDNS/EN/HUMA 3536 3.00 Indigenous People, Legend and Memory
Richard Hill (Cree)*
Assistant Professor: Aboriginal Art
Department of Visual Arts
Email: rhill@yorku.ca
Education: AOCA Diploma (Ontario College of Art), BA (York), PhD (Middlesex)
Richard Hill is a curator, critic and art historian of Cree heritage. His areas of interest and expertise include historical and contemporary art created by Indigenous North American artists.
As a curator at the Art Gallery of Ontario, Dr. Hill oversaw the museum's first substantial effort to include North American Aboriginal art and ideas in permanent collection galleries. He also curated Kazuo Nakamura: A Human Measure at the Art Gallery of Ontario in 2004 and co-curated, with Jimmie Durham, The American West at Compton Verney, UK in 2005. His most recent curatorial project was The World Upside Down, which originated at the Walter Philips Gallery at the Banff Centre in 2006 and toured to a number of Canadian venues.
Professor Hill's essays on art have appeared in numerous books, exhibition catalogues and periodicals. He has a long association with the art magazine Fuse, where he was a member of the board and editorial committee and remains a contributing editor. He is currently writing a book on questions of agency in the art of Jimmie Durham, the subject of his PhD thesis.
Courses:
FA/VISA 2750 6.00 Art of North America before 1900
FA/VISA 3350A Representation of Indigenous North Americans in Art & Popular Visual Culture
FA/VISA 3350C History of Indigenous North American Art
FA/VISA 3350 D Contemporary Aboriginal Art of North America
FA/VISA 4351D 3.00 Issues in Contemporary Indigenous Art of North America
FA/VISA 4800I 3.00 Art of the Arctic
History Department, LAPS
Email: carolynp@yorku.ca
Education: BA (McGill), MA and PhD (Toronto)
Carolyn Podruchny's research interests include early Canadian history, especially cultural and social relations between Algonquians-speakers, particularly Anishinaabe and Omushkego, and French Canadians; oral history and folklore; and book and print history. She has recently edited, with Laura Peers, Gathering Places: Aboriginal and Fur Trade Histories (UBC Press 2010). Her 2006 book Making the Voyageur World: Travelers and Traders in the North American Fur Trade (Lincoln: University of Nebraska Press and Toronto: University of Toronto Press) explores mainly French Canadian history, but includes much information on First Nations in the fur trade. She is currently working on an edited collection on Metis history, co-edited with Nicole St-Onge and Brenda Macdougall.
Courses:
HIST 1035 The Impact of Europeans on the North American Environment
HIST 3550 Canada Before 1900: Cultural History
HIST 4508 Cultures and Colonialism: Canada 1600-1900
Gabrielle Slowey*
Department of Political Science, LAPS
Email: gaslowey@yorku.ca
Gabrielle Slowey's research interests focus on neoliberal globalization, treaties, land claims, economic development and Indigenous governance. Her work draws upon community-based research conducted across the Canadian Arctic and in New Zealand (Tainui and Ngai Tahu). Her extensive publications range from evaluating the James Bay and Northern Quebec Agreement thirty years after the signing of this first modern treaty to examining self-government in the context of globalization.
Courses:
AP/POLS2910 6.00: Canadian Democracy in a North American Context
AP/POLS4102 3.0M : Aboriginal Politics
* Faculty in Indigenous Studies in other Departments and Faculties.